News
First British coronavirus death as man from Diamond Princess cruise ship dies
A British man has died after being infected with coronavirus while in quarantine in Japan on the Diamond Princess cruise ship, Japan's health ministry said.
He is the first Briton to die from the virus.
The man was one of at least four Britons who had to remain in Japan after dozens more, who had tested negative for COVID-19, were evacuated to the UK last week following a fortnight on the coronavirus-stricken ship in Yokohama.
Two of the group of four were David and Sally Abel, from Northamptonshire, who are still being treated for the virus in a Japanese hospital.
Neither of them is the person who has died.
Advertisement
A spokeswoman for Princess Cruises, which operates the Diamond Princess ship, said: "All of us at Princess Cruises, including the crew of Diamond Princess, offer our sincere condolences to family members and friends for their loss.
"Our dedicated care team are on hand to provide support."
The Foreign Office has not commented on the man's death yet but health minister Jo Churchill said she was aware a British man who had been on the ship was "very poorly".
A total of 705 passengers and crew out of 3,711 onboard the Diamond Princess were confirmed as having COVID-19.
Six people from the ship have now died, with the British man the first foreign passenger to die, Kyodo News said.
The Japanese government has been criticised for the way it handled the ship's isolation, with some doctors saying it acted like an incubator.
In the UK, 19 cases have now been confirmed, including one each in Northern Ireland and Wales.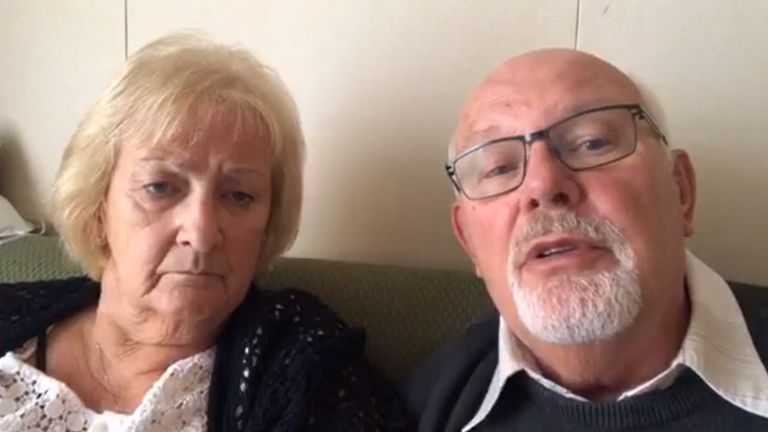 In other coronavirus developments:
A total of 83,704 cases have been confirmed around the world, with 2,859 deaths
Mexico confirmed its first two coronavirus cases on Friday
Schools in the UK could be closed for more than two months if the outbreak intensifies, England's chief medical officer has said
Two Britons are among eight people being monitored on board a cruise ship that was turned back by the Dominican Republic
Some British tourists are being allowed to leave a Tenerife hotel on lockdown because of COVID-19 – but Jet2 says it will not fly them home until testing confirms they are not infected
EasyJet and the owner of British Airways are to cancel European flights as a result of the coronavirus crisis
World markets have tumbled, with the Dow Jones suffering its biggest one-day drop in its history
A spokesman for Iran's Health Ministry says 34 people have been killed by COVID-19 in the country and 388 people have been infected
The number of coronavirus cases in South Korea has exceeded 2,000 after 256 new diagnoses were confirmed
The sharp downwards trend of new COVID-19 cases has continued in China, where there were 327 new cases and 44 deaths on Thursday
The Japanese island of Hokkaido is declaring a state of emergency after a rapid increase in cases. The governor has urged residents to stay at home this weekend
Sky News