Travel
31 free things to do with kids in London
From exciting museums and child-friendly art exhibitions to fun-filled parks and fascinating landmarks, there are plenty of free things to do with kids on a family trip to London.
Family-friendly museums
1. Meet a roaring T-Rex and feel the ground shake beneath your feet on the earthquake simulator at the Natural History Museum. Older children can use microscopes to examine specimens at the Investigate science centre. 
2. See what life was like for the poor and destitute children of London's East End during the late 1800s at the Ragged School Museum. Experience a strict lesson in the reconstructed Victorian classroom, and learn more about how these children found housing, education and work.
3. Learn about Britain's exciting maritime history at the National Maritime Museum, which is part of Royal Museums Greenwich. Under-sevens can stoke the boiler of a steamship in the AHOY! Children's gallery, while older children can shoot down a pirate ship at All Hands.
4. Be wowed by the Rosetta Stone and Egyptian mummies at the British Museum. Kids can bring history to life at the Digital Discovery Centre, or follow an activity trail for a fascinating journey through ancient Greece and other key moments in history.
5. Walk through the streets of Victorian London at the Museum of London. 
6. Goggle space rockets and giant steam engines at the Science Museum. Youngsters can get hands-on in multi-sensory areas, including The Garden (for kids aged three to six) and Pattern Pod (for under-eights).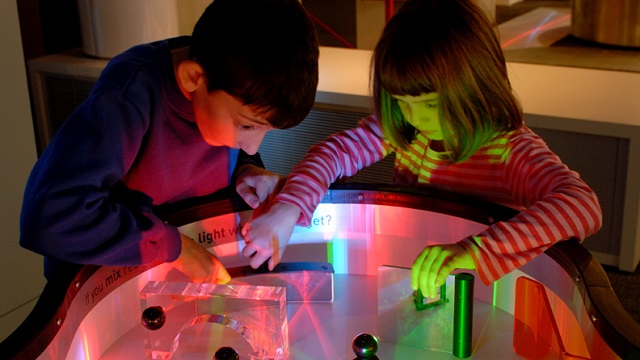 7. Explore the V&A Museum of Childhood, which houses the UK's national collection of childhood objects. Wander through the museums's collection of teddy bears and dolls' houses, or take part in daily activities, including storytelling and crafting.
8. Find out more about the history of the river Thames at the Museum of London Docklands. Step into Sailortown, a reconstruction of 19th-century London. Let under-eights loose in the Mudlarks soft play area.
9. Take older kids to see a wonderfully weird collection of historical objects at the Wellcome Collection, including Napoleon's toothbrush and Darwin's walking stick.
Top London parks and fountains
10. Splash about in the fountains at Queen Elizabeth Olympic Park. The Pleasure Gardens play area has a climbing wall, while the Tumbling Bay playground boasts sand pits, tall treehouses and wobbly bridges, as well as swings and slides.
11. Visit the popular Diana Princess of Wales Memorial Playground in Kensington Gardens. Youngsters can climb the giant wooden pirate ship or commandeer a teepee for hours of outdoor fun.
12. Meet life-size dinosaurs built by the Victorians in Crystal Palace Park, where you'll also find a children's farm, maze and playground.  
13. Enjoy an afternoon of fun at Coram's Fields in Bloomsbury, a seven-acre (three-hectare) park and playground, with a small animal area, cafe and paddling pool. Adults can only enter when accompanied by a child, providing a calm, safe and stimulating environment for kids. 
14. Cool off on a hot day under the fountains at the traffic-free Granary Square in King's Cross, where crowd-pleasing jets change colour and squirt in patterns. 
Animal attractions in London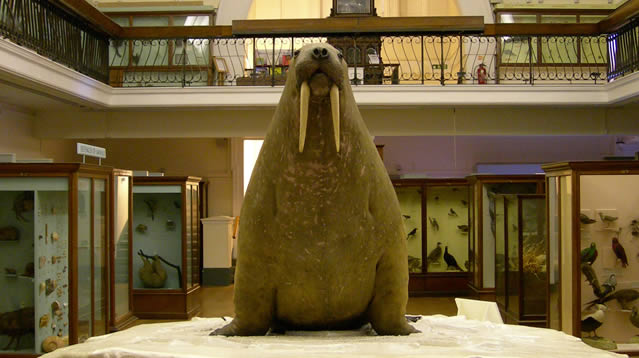 15. Meet the gigantic overstuffed walrus at the Horniman Museum and Gardens, where kids can also explore natural history and musical instrument exhibits.
16. Feed the cows at Mudchute Farm and Park, London's largest urban park with 34 acres (14 hectares) of open parkland. Youngsters can visit the farm animals, go horse riding and explore the farm's educational facilities.
17. Marvel at the funky hairstyles of Vauxhall City Farm's three famous alpacas, Tom, Jerry and Ben. London's most central city farm is also home to pigs, sheep, ducks and rabbits, as well as housing an ecology area, herb and dye garden, and a picnic area.
18. Take home some farm produce from Deen City Farm and Riding School after the little ones have played with the animals in the special petting area.
19. Watch the pelicans being fed every day in St James's Park, while keeping your eyes peeled for water birds, owls, pelicans and bats too.
20. Go pond dipping at Camley Street Natural Park in King's Cross, where you can also spot birds and butterflies. 
Theatre and art
21. Take a ride in the singing elevator – also known as the JCB lift – at the Royal Festival Hall. 
22. Enjoy free children's theatre and inspirational author-led events at Imagine Children's Festival at the Southbank Centre, which takes place every February half-term. 
23. Get messy with clay or engage in a drawing session at one of the many free workshops at Tate Modern.
24. Fly away on a magic carpet (which sits in front of a different painting each day) with the National Gallery's storytelling sessions for families with under-fives. 
25. Model with clay or create an animation at the National Portrait Gallery, which offers family workshops during the school holidays. 
Fascinating London landmarks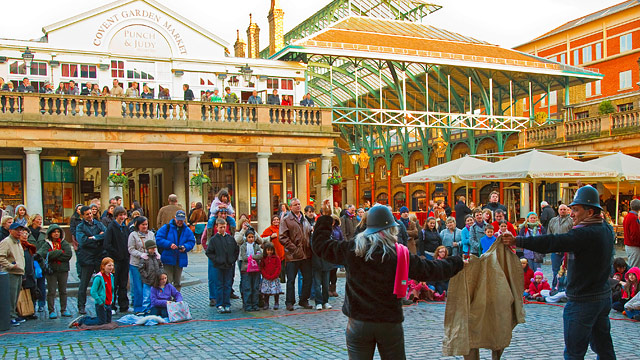 26. Watch the street entertainers in Covent Garden, where opera singers, human statues, death-defying acrobats and magicians dazzle the crowds. 
27. Strike a pose at the historic Prime Meridian Line at Park Vista.
28. There's no charge to see some of London's top sights lit up for Christmas. Big light switch-on events take place from early- to mid-November and usually include free entertainment. 
29. Watch the Changing the Guard ceremony outside Buckingham Palace. Youngsters will love seeing the brightly-dressed guards and the ceremony is set to music.
30. Push a trolley through to Harry Potter's magical world at the wall marked Platform 9 ¾ at King's Cross.
31. Watch Tower Bridge open from the banks of the river Thames. The bridge opens approximately 1,000 times a year or three times a day. You can also see continuous images of the 19th-century landmark on our live video feed.