Foods
How to make felafel
Today is all about how to make falafel. Hearty and  healthy vegan patties made of ground chickpeas, garlic, and fresh herbs. An authentic falafel recipe just as they serve on the streets of the Middle East! You can fry or bake falafel (instructions for both included in today's post); and I'll show you how to make a mean falafel sandwich loaded with tasty goodies! Be sure to check out the video and step-by-step instructions below. 
Growing up in Port Said, Egypt, one of my favorite foods ever was falafel. My father's friend owned a small falafel shop that was located in the heart of the souq (market.) And our weekends involved a trip to see Mr. Bishay and partake of his fragrant falafels…you could smell them from miles away! Over the years, I learned how to make my own authentic falafel recipe that I'm super excited to share with you!close
Volume 0%
But for those who are not familiar, let's begin with a few basics…
WHAT IS FALAFEL?
Falafel is a popular Middle Eastern "fast food." They are vegan patties (or fritters) made of chickpeas (or fava beans) and tons of fresh herbs–pasley, cilantro, and dill– garlic, and warm Middle Eastern spices including cumin and coriander. I'll say this now, if you want the most authentic falfafel taste in a homemade falafel, do not skimp on the herbs and spices.
They say falafel originated in Egypt some thousand years ago. The little patties were invented by Egypt's Coptic Christians as a replacement for meat during long seasons of fasting such as lent.
Falafel continues to be the people's daily grub in Egypt to this day.  I'm not exaggerating when I say, there is a falafel joint or street vendor in almost every neighborhood, serving fully stuffed falafel sandwiches with a generous drizzle of tahini and loads of Mediterranean salad.
You can serve falafel for breakfast, lunch, or dinner! The hearty patties, packed with plant-power and protein from chickpeas, are so satisfying and hearty. You won't feel hungry for a good bit of time. That's why most Egyptians, and others throughout the Middle East actually start their day with falafel, much like many here in the States start with a bowl of cereal.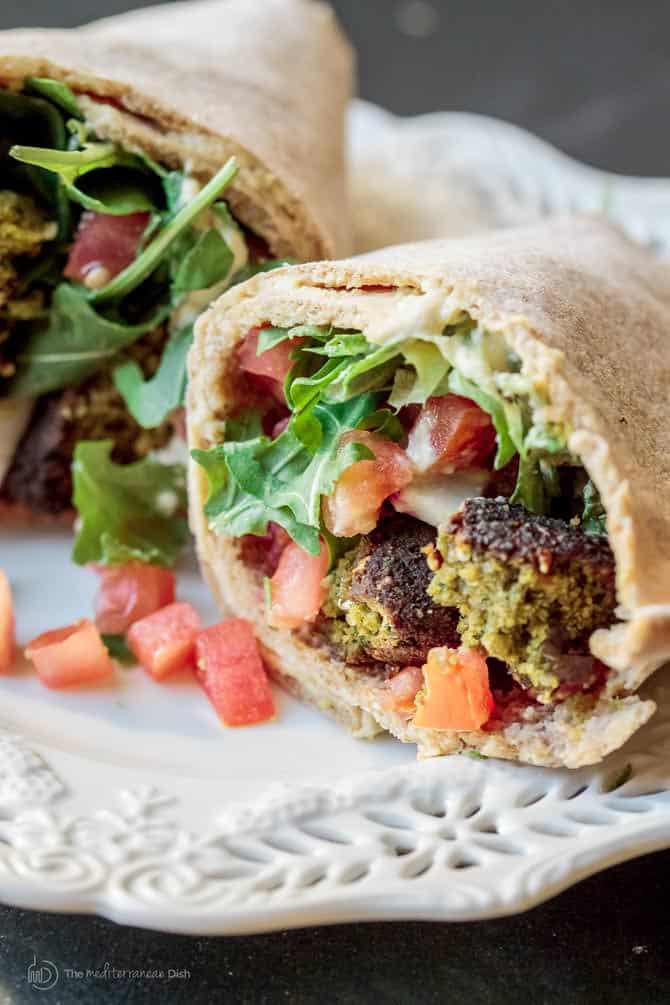 HOW TO MAKE FALAFEL
Falafel is easy to make, but it does require you to budget some time. You will need to start the night before to prepare the chickpeas. Here is how to make falafel:
1. Falafel are vegan patties where the main ingredient is dried chickpeas. The first step is to soak the chickpeas in plenty of water overnight (allow up to 18 hours).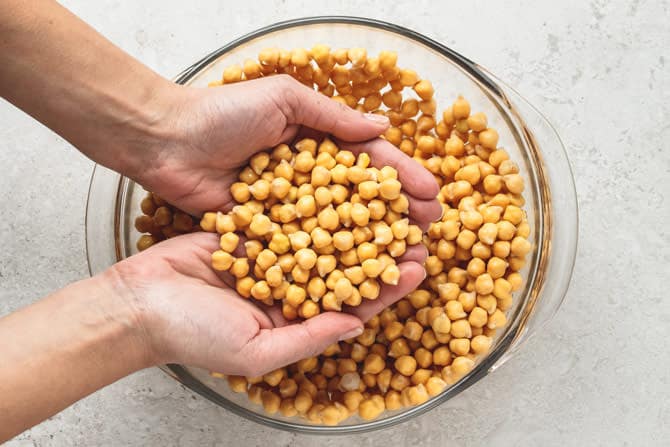 2. Next, make the falafel mixture. Take the soaked chickpeas and add them to the large bowl a food processor fitted with a blade. Add fresh herbs (parsley, cilantro, and dill), fresh garlic, spices etc. Run the food processor until everything is well combined and you achieve a greenish falafel mixture/paste.
Important Tip: Transfer falafel mixture to a bowl, cover and chill in the fridge for at least 1 hour or overnight. This will help you to easily form falafel patties; they will also hold up better when cooked.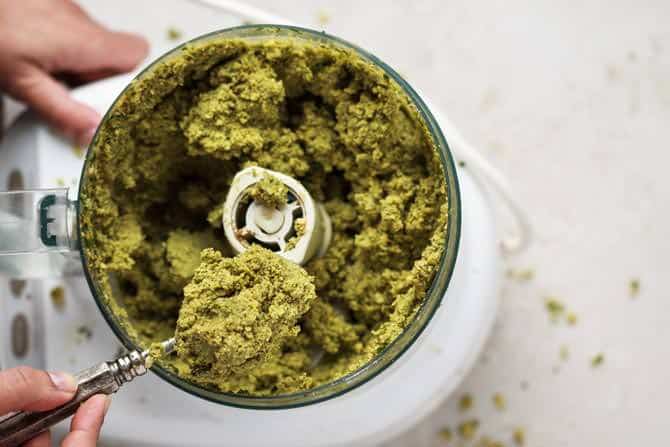 3. Once the mixture has had a chance to chill, we add a sprinkle of sesame seeds and a little baking powder. Then take a bit of the falafel mixture at a time to form falafel patties (this recipe makes about 24 patties. You can freeze some for later use.)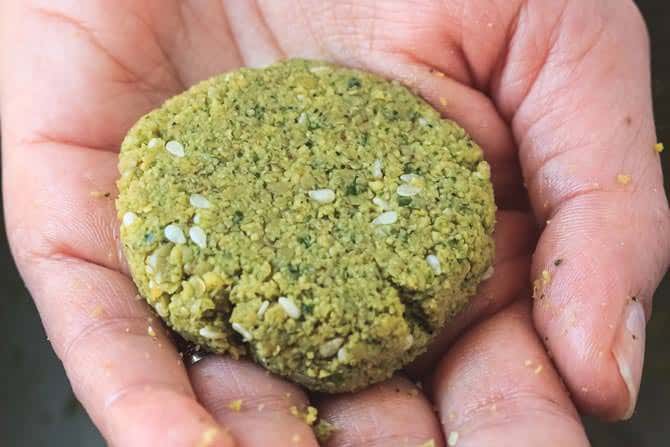 4. From here, you can fry or bake the falafel patties. Frying is the traditional way to cook falafel, and in my opinion, it does yield the best results.
To fry, heat the oil on medium-high until it bubbles softly. Carefully drop the falafel patties in the oil, let them fry for about 3-4 minutes or so until medium brown on the outside. Avoid crowding the falafel in the saucepan, fry them in batches if necessary.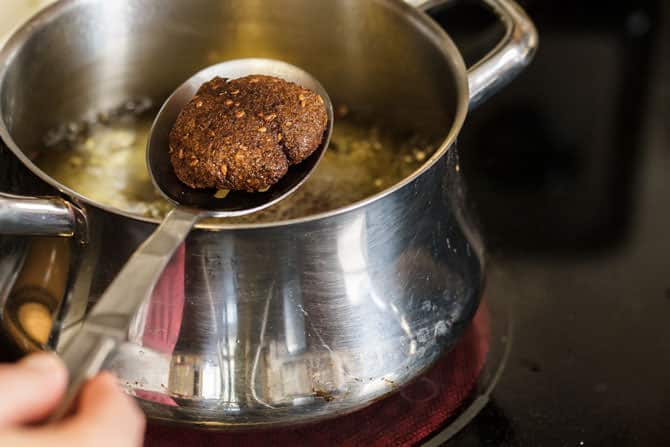 BAKED FALAFEL OPTION
If you'd rather avoid fried falafel, you can also bake falafel patties in a 350 degree F heated oven for about 15-20 minutes, turning them over midway through. Use a lightly oiled sheet pan, and you might like to give the patties a quick brush of extra virgin olive oil before baking.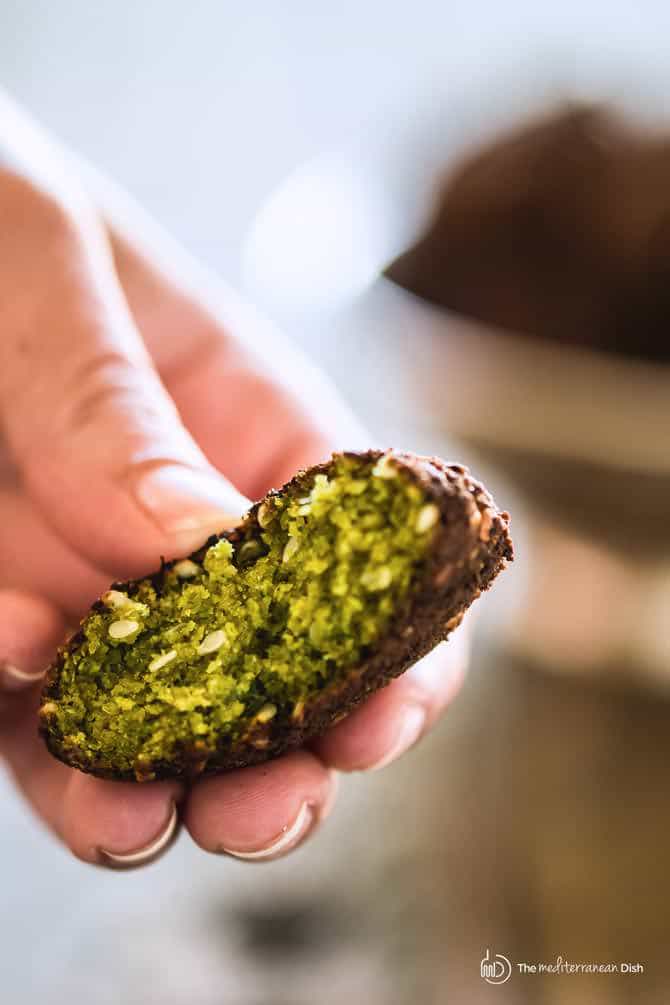 MAKE AHEAD AND FREEZING INSTRUCTIONS FOR FALAFEL
This falafel recipe makes about 24 patties. You can prepare the patties ahead of time and freeze them for use as needed!
To freeze, prepare the falafel mixture and form the patties. Place falafel patties on a baking sheet lined with parchment paper and freeze. When they harden, you can transfer the falafel patties into a freezer bag and freeze again for later use. They will keep well in the freezer for a month or so. You can fry or bake them from frozen.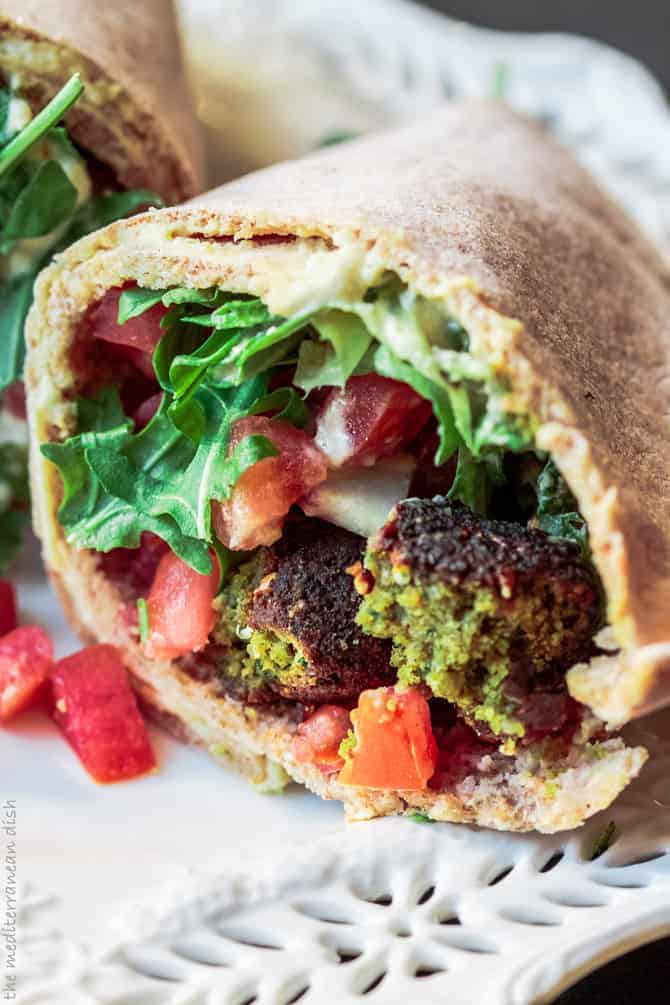 IMPORTANT TIPS FOR THIS FALAFEL RECIPE
Just a couple more tips:
Do not use canned chickpeas, falafel patties will not hold up and will disintegrate in the cooking oil. For best results, you need to start with dry chickpeas soaked in water.
Make sure you allow at least 1 hour to chill the falafel mixture. As mentioned earlier, this will help you easily form the falafel patties, and more importantly, it will help the falafels hold their shape. It also does allow all flavors to meld, giving you the most authentic falafel taste.
HOW TO SERVE FALAFEL? WHAT FALAFEL SAUCE TO USE?
On the streets of the Middle East, falafel are typically served hot with a generous amount of tahini sauce. To make a mean falafel sandwich, garb some warm pita pockets, load the falafel in, drizzle with tahini and add some fresh greens like arugula and fresh diced or sliced tomatoes, cucumbers, and pickles. The best!
But there are many more ways to enjoy flalafel. I often use them as the centerpiece to a brunch board like this one. Or, to assemble a simple vegetarian dinner, serve falafel next to small plates like Turkish-inspired fried eggplant, tabouli salad, Balela Salad, and  Roasted Garlic Hummus to make a vegetarian dinner!
WATCH VIDEO FOR THIS AUTHENTIC FALAFEL RECIPE
Volume 90%